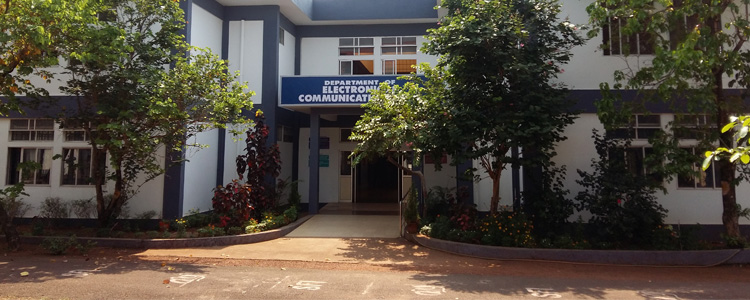 The department of Electronics and Communication is infact the pride and honor of the college. The department has seen tremendous growth ever since the establishment of the college. The Department has always been on a high growth path and has experienced and dedicated faculty with a strong commitment to engineering education. The department has an annual intake of 63 students.
Vision
To provide valuable resources for industry and society through excellence in electronics and communication engineering.
Mission
Educate students with the state of art technologies to meet the growing challenges of the industry
Undertake collaborative projects with academia and industry
Equip students with strong foundation for higher studies
Programme Educational Objectives (PEOs)
Prepare graduates with fundamental knowledge in mathematics, science and engineering fields to develop problem solving skills for the career advancement in electronics and communication and allied disciplines
Prepare graduates with strong practical and theoretical knowledge in electronics and communication Engineering, contributing to society through interdisciplinary projects, research, entrepreneurial skills and leadership
Prepare graduates with a professional outlook who can communicate effectively and interact responsibly with colleagues, clients, employer and the society
Prepare graduates who will pursue lifelong learning and professional development including post graduate education
Programme Outcomes (POs)
Apply knowledge of Mathematics, science and electronics and communication engineering
Identify, formulate and solve complex engineering problems
Design electronic circuits and conduct experiments in electronics and communication systems, as well as to analyze and interpret data
Design and develop digital and analog systems with desired specifications and requirements
Utilize modern engineering tools, software and equipment to analyze electronics and communication engineering problems
Apply engineering solutions on contemporary issues
Understand the impact of engineering solutions in the societal and environmental context
Demonstrate knowledge of professional and ethical responsibilities
Become excellent multiskilled engineer, manager and leader capable of working effectively in a team
Communicate effectively in both verbal and written form of scientific analysis of data
Develop confidence for self-education and ability for life-long learning to participate and succeed in competitive examinations like GATE, GRE
The Laboratories available in the Electronics & Communication Department are:
Basic Electronics Lab
Electronic Circuits Lab
Digital Electronics Lab
Microprocessor Lab
Communication engineering Lab
Digital Signal Processing Lab
Embedded System Lab
Project Lab(EDA Tools,HFSS,Spectrum Analyzer)
Association Activities
Association Organizes lectures, seminars and technical talks by distinguished personalities. It also hosts workshops, exhibitions and competitions like instant logic quiz, paper presentation, code debugging and many more.